Point of Sale, KMS, & Online Ordering Platform
Designed for Mobile Food Vendors
The EasyEats' Point of Sale, Kitchen Management, & Online Ordering Platform
combines traditional window and online ordering into one simple production process. This innovative system also enabling customers to find your food truck easily via location tracking and automatically sends them a text notification when their food is ready.
This removes the need for a customer to wait inline while ordering or waiting for their food. Enabling you to take more orders, faster, and focus on the value added service of food production.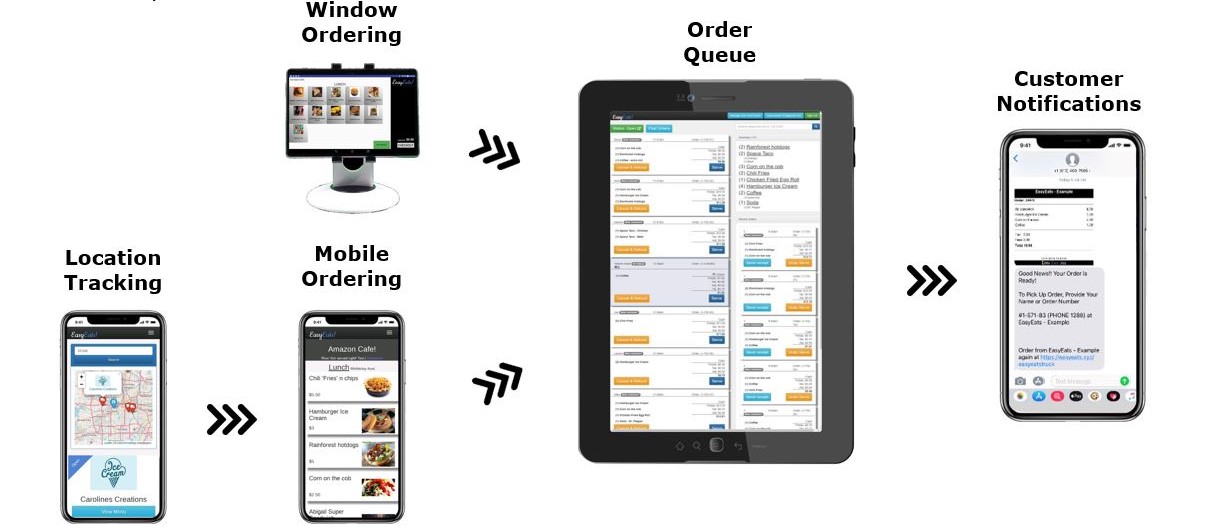 Increase Sales
Location Tracking
Helps customers find your truck
Removes line of sight issues with sales
Facebook marketing integration
Mobile Ordering
Contactless sales channel
Provides incremental sales
Partially mitigates bad weather
Automates ordering (saves time)
Customer Notification
Removes the need to wait in line
Automates ordering and serving
Better customer experience
Improve Production Efficiencies
Kitchen Management System
Tracks All Outstanding Orders
"All Day" Summary of Items
Integrates Mobile & Local Orders
Text Customers When Order is Complete
Improved Quality Control
All Modifiers Clearly Listed (Less Errors)
No Misplaced Paper Tickets
Visible to Multiple Employees Simultaneously
Modular System
Multiple Order Taking Tablets Capable
Multiple Order Queue Systems Capable
No Additional Cost


Real World Examples
Breweries, Events, or Lunches
Leverage mobile ordering to increase the ease of purchase. Customers can skip the line, pay, and wait for their food all while remaining in their seat.
Coaxes incremental sales out of customers who don't want to lose their spot or leave their group.
Mitigates the loss of customers from having to wait in a long line.
Provides contactless payment and a higher level of cleanliness to customers.



Production Efficiencies
Save time on order taking. Workers can be prioritized to higher value activities like production or serving.
Mobile orders, with a well designed menu, can reduce order errors as customers select their own menu items.
Window and mobile orders are tracked via tablets or touchscreens (top right picture), this reduces errors and the likely-hood of losing paper tickets.
"All Day" summary increases the efficiency of flattops and deep fryers as current total quantity of ordered food is always available.
Improved Customer Experience
Detailed and customizable menus make ordering easy while providing many options for the customer.
No need to ever wait in line for a customer. Huge quality of life improvement.
Order progress tracker enables a customer to track their order while it's being made.
Text notifications sent to customer when food is ready



Feature List
Online / Mobile Ordering:
Improved experience for customer
Increases sales & reduces labor costs
Encourages customers to tip
Food truck specific website for menus
Order Progress Tracker:
For customers to track their order status without asking
Order Notifications:
Texts customer when order is ready
Facebook Marketing Integration:
Auto post menu to FB for your customers to purchase from
Location Tracking for Food Truck:
Shows customers where you are each day
Kitchen Management System:
No paper or printers needed
"All Day" summary of outstanding orders increases flattop and deep fryer efficiencies
Integrates local, online and preorders into one production queue
Very easy to track food production
Combo Mode:
For taking complex orders easily on POS or Web
Inventory Tracking:
Auto disable online sales when inventory runs out
Food Truck Managed Delivery Option:
System gathers payments, order details and delivery location. You handle the delivery yourself with no extra system fee
Save the 30+% of sales 3rd party delivery companies charge
Point of Sale App:
For cash register / order taking
Encourages customers to tip
Save money, bring your own hardware
Easy to Setup and Use:
Free, live tech support available
No contracts & inexpensive
Very easy to change menus for different venues
Easy to create modifiers and combo meals
Reporting:
Summary and Detailed Reports
Exportable to Excel for upload into accounting systems
Small Business:
Like you, we are a small business, passionate about serving our customers and providing the best products possible
Highly engaged with our customers for feedback and system improvements
System Pricing
Equipment
Bring your own equipment or purchase new if necessary
EasyEats Platform
Pricing options for using the EasyEats system, can be passed along to consumer if desired
Credit Card Processing
SumUp is the least expensive CC processor currently supported
Online Pricing Comparison