Built for food trucks.
With you in mind.
EasyEats simplifies the way you do business. It is the only POS designed specifically to meet the needs of food trucks.
It is time to make the switch to EasyEats
Easy
Our easy to use food truck POS, transparent pricing, and great customer service will let you focus on what matters to your business.
We will help you succeed.
Affordable
Our pricing is designed with the small business owner in mind. We make our entire feature set available at one low price.
This makes EasyEats one of the most affordable POS systems available.
KDS
The Kitchen Display System combines window, online and scheduled orders into one easy to manage order queue.
Online Ordering
Allowing customers to avoid lines, while locking in sales with schedule ahead or immediate ordering options.
Food truck point of sale on a whole new level
Completely integrated in person and online sales change the way you operate. When a food truck opens for the day, they show up on a map where customers can find them.
Your touch screen KDS (Kitchen Display System) shows orders when you need them. No matter if they were scheduled in advance, ordered from the counter, or ordered from a mobile phone nearby.
When orders are ready, customers can be texted so they can come pick up their food.
EasyEats makes it simple to add combos, modifiers, and custom items to your menu. You can even have specific menus for certain events.
Reporting that works for you
Whether you are checking a summary of today's sales, or deep diving into details of each transaction, we have you covered. EasyEats will help you understand your sales and your customers with reports that give you what you need.
Reports can even be exported into Excel for further analysis. You will get details on individual orders, items and inventory, discounts used, sales taxes charged, event summaries, and even weather during an event. It is all the info you need to grow and adapt to the ever changing environment.
Simple pricing that fits your business
Food trucks have a unique business model. You have off seasons, weather, changing location, and more to deal with. In order to succeed you must be flexible.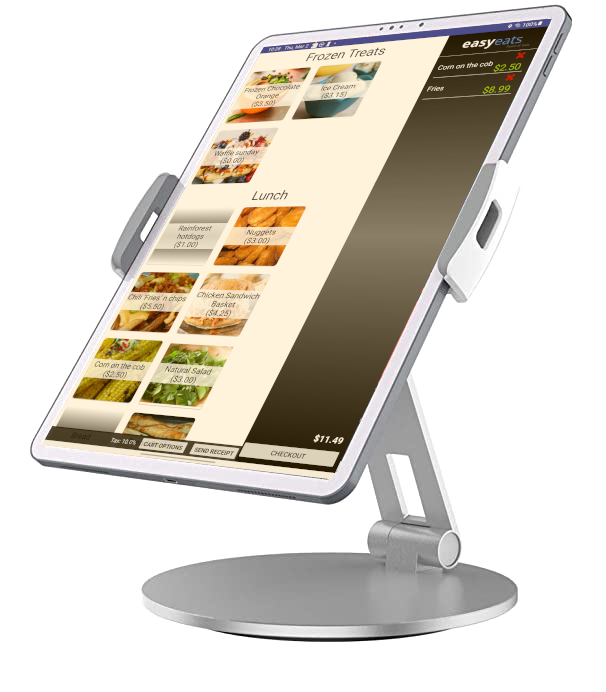 EasyEats understands flexibility and we embrace it. Our pricing is designed to handler the variability of the food truck business. Our pricing model is based on a percent of your sales. So if you are closed for the month, it's ok. We don't charge for that month.
For bigger food trucks, or ones that are open year round, we do offer discounted yearly plans that will allow you to grow your food truck without growing the cost.
EasyEats pricing is designed with you in mind. We keep our prices transparent and are always willing to answer your questions.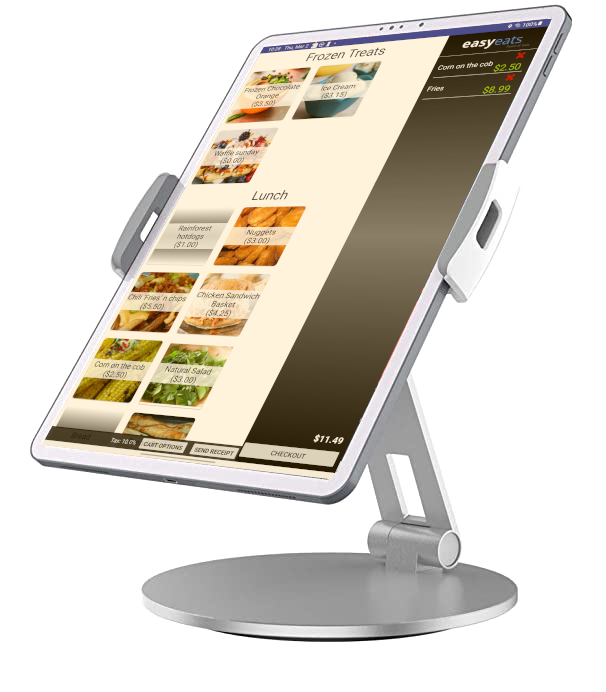 Tax tracking with mobile business in mind
Unlike traditional POS systems, we are built first for food trucks. We understand that you move around... a lot. You need a system that can calculate tax in many jurisdictions.
EasyEats allows you to set tax profiles for any neighborhood you frequent. You can have different taxes setup for various events. All this can be pre-scheduled in advance, so when you open for the day, you can focus on your customers, rather than on figuring out sales tax.
We make it easy to calculate your sales tax. We even allow individual items to have special taxes or to be tax free.
EasyEats will give you a report of all the taxes that were charged for any time period, so your reporting is simple.
Your customers will love the experience
Discover
Guests can find nearby food trucks on a map. They can return to their favorite vendors again and again by tracking them on our food truck finder feature.
Inform
Online menus are updated in real time with your current offerings. Patrons can order ahead for future events or order off today's menu.
Track
Your customers can track their orders in real time and receive a text notification when their order is ready.
EasyEats is the answer.
Any questions?
It is easy to get started. Set up a free demo today and discover what countless food trucks are learning today.
We have worked closely with food trucks around the nation to make a point of sale system with food trucks in mind. The EasyEats team is incredibly open and responsive to customer ideas and suggestions. That is how we have become one of the biggest trends in food truck point of sale systems today.
If you have more questions you can setup a demo, call, text, or email us today. We are happy to provide you with a response that helps you make an informed decision.